About Mother
Rev. Mother Benigna nee, Rosa Louigia Gastaldon, founded St. Anthony's Girls School and Orphanage in 1934. She was born on 26th Oct. 1897 in Italy. As a teenager Rosa Luigia loved the outdoor life. She was a person of other centeredness. She always dedicated her life in the service of others beginning from her parents. Other than this she always had time to meet God in her life. When Mother Benigna expressed her desire to commit her life to the Lord to her parents, she was discouraged. But Rosa was determined and joined the convent and made her final commitment in 1928.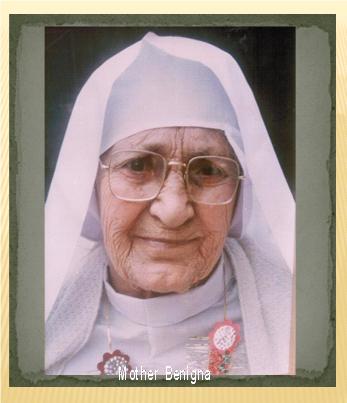 (Mother Benigna)
In February, 1934 Mother Benigna accompanied by Sr. Anthonia, a young Italian nun, reached Paharganj to start a school for the girls of the locality. It was a time when education of girls was looked upon as a waste of time. Every day the two sisters would visit the squalid quarters in Paharganj and the surrounding areas, motivating parents to send their daughters to school.
On 1st May, 1935 an 11 year old girl was left with the sisters , by an Ajmeri gate resident. Mother accepted the gift whole heartedly. After all the Congregation of CFMSS specialized in caring for the abandoned and the destitute. Thus St. Anthony's Girls Orphanage was born.
In 1992, Mother Benigna was honoured by the Catholic Church for her labour of love among the destitute, a love that knew no barriers of caste, creed or colour. In decorating this Mother of the Motherless with the medal "Pro Ecclesia et Pontifice" His Holiness Pope John Paul II has publicly acclaimed her contribution-however little might be-to the upliftment of the Indian girl child and to the consequent building up of a better society. However the greatest award she received was the hundreds of girls whom she gave new life by nurturing and settling them in life. They are spread all over the world today ever watchful and caring for their dear home- St.Anthony's.
Mother Benigna, a true follower of St. Francis of Assisi, loved Nature and taught us to take care of Nature- the plants, animals and birds. Today Mother Benigna is no more with us, but St. Anthony's continues in her footsteps giving shelter to hundreds of orphans and destitute ,and is ever ready with open arms to welcome the girls who have gone out from this institution, whenever they come on a holiday.